---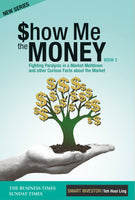 "An invaluable rudder for investors to overcome their fears and boost their conviction and courage to invest when, as they say, 'there is blood in the streets'. Read it now, and re-read it again when the next crisis comes. It will be a good antidote to counter the paralysis of fear, for we can be sure that when that time comes, our resolve to invest will fall as fast as the market." —David Gerald, President/CEO, Securities Investors Association (Singapore)

"Hooi Ling has the uncanny ability to write with impressive clarity and her hallmark brevity. … comprehensive, in-depth and objective analysis of the securities and investment instruments. I would highly recommend all and sundry who aspire to be an intelligent investor to read the latest book by Hooi Ling and all her earlier books." —Robson Lee, Partner, Gibson, Dunn & Crutcher LLP

$how Me The Money is a series about learning how to grow your money. Teh Hooi Ling brings to both layman and seasoned investor important economic concepts and the investment strategies of the world's leading financial experts. Using real data, Teh shows how these strategies would have worked in the Singapore market over the years and signposts the lessons to be learnt and pitfalls to avoid.

In $how Me The Money Book 3, Teh brings us the big picture. She gazes into the crystal ball of market timing, shows us how to fight the paralysis of fear and brings home the importance of a clear plan to overcome inertia in the darkest hour so that we won't miss out on any market recovery. Book 3 is indispensable both for the macro-view and the intricacies of good investing.
Author: TEH Hooi Ling
ISBN
9789814642149
Language
English
Binding
Softcover
Trim Size
227 mm x 152 mm
Extent
236 pages
Published Date
September 2016
Weight
320 g