---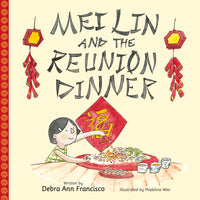 Mei Lin and her mother are decorating the house for Chinese New Year.
When Mei Lin's mother realises that Mei Lin has eaten up all the love
letters, she sends her to her grandmother's – her Nai Nai's – house to
make more. Nai Nai shows her how to combine the coconut milk, eggs,
sugar and flour for the batter and how to use the special mould for love
letters. Mei Lin helps Nai Nai prepare the food for steamboat, for reunion
dinner, and arranges the items for yu sheng (tossed raw fish salad).

Through the story, readers will learn more about the three dishes
highlighted in the story – love letters, steamboat and yu sheng – as well
as some of the colourful customs of Chinese New Year.

About the series
This is one of five titles in an illustrated heritage cookbook series that
aims to inspire children to discover more about the traditional dishes of
the various ethnic groups in Singapore, through imaginative storylines
involving kids learning about food and cooking for themselves.
AUTHOR | Debra Ann Francisco
ILLUSTRATOR | Madeline Wee
| | |
| --- | --- |
| ISBN | 9789814747974 |
| Language | English |
| Binding | Limp cover |
| Trim Size | 250mm x 250mm |
| Extent | 44 pages |
| Published Date (Month, Year) | August 2018 |
| Weight | 200 grams  |