---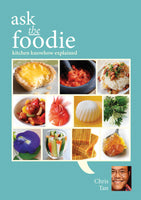 Ask the Foodie is a wonderful compilation of Christopher's valuable culinary
heritage. He has helped to bring back the authentic and nostalgic flavours of his
childhood, restoring Singapore heritage cuisine - our common interest. He shares
his knowledge of food generously, with authority, and best of all, with charm and a
sense of humour.
AUTHOR | Chris Tan
| | |
| --- | --- |
| ISBN | 9789814342261 |
| Language | English |
| Binding | Softcover |
| Trim Size | mm x mm |
| Extent | 272 pages |
| Published Date (Month, Year) | 2013 |
| Weight | grams |