---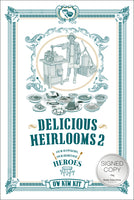 A curry puff stall that dates back to the 1950s; homemade desserts sold to make ends meet; immigrants cooking with firewood; itinerant hawkers peddling their wares from pushcarts and tricycles...
The food of Singapore is like a window to the past, and the stories of Singapore's hawkers are truly the stories of Singapore's development, from the movements of people in the region to the struggles of the newly-arrived.
Most of all, they are tales of courage, determination and resilience.
The author of Delicious Heirlooms is back with a sequel, Delicious
Heirlooms 2: Our hawkers, our heritage heroes.
Where book number one looked at family-run restaurants in Singapore, the focus this time is on famous or old hawker stalls in Singapore.
The author delves into the very human stories behind well-known stalls like Inspirasi (Mee Rebus) at Bedok Interchange Hawker Centre and Yu Kee Duck Rice.
The author spoke with the hawkers and their family members and the resulting book is rich with the details from these personal encounters – a journal of the stallholders' memories, dreams, sorrows, joys, and plans, if any at all, on keeping their stalls going for another generation.
The 10 hawker stalls featured are:
• 115 Desserts (Xiong Ji)
• Che Rose Nasi Padang
• Haji M. Abdul Rajak Soup Kambing
• Inspirasi (Mee Rebus)
• Ming Fa Fishball Noodles
• Rolina Curry Puffs
• Tan's Tu Tu Coconut Cake
• The Old Stall Hokkien Street Famous Hokkien Prawn Mee
• U Hakka Niang Dou Fu (Lao Huang)
• Yu Kee Duck Rice (Yew Kee Duck Rice)
Other highlights: Full colour • Packed with photos, many provided
especially for this publication.
This book is an invaluable addition to the historical record of Singapore's food scene and heritage. It is supported by the National Heritage Board's Heritage Participation Grant.
[Signed Copy] This book is signed by Ow Kim Kit, the author
AUTHOR | Ow Kim Kit
| | |
| --- | --- |
| ISBN | 978-981-4827-99-7 |
| Language | English |
| Binding | Softcover |
| Trim Size | 152 mm x 227 mm |
| Extent | 160 pages |
| Published Date (Month, Year) | July 2022 |
| Weight | 360 grams |