---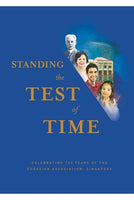 The Eurasian Association, Singapore (EA) was set up in July 1919 by pioneer Eurasians who, while working to support themselves and their families, also desired to build a brighter future for their children. The organisation's objectives, enunciated in its first constitution, included the promotion of Eurasians' political, economic, social, moral, physical and intellectual advancement; promoting an active interest in the affairs of Malaya; and looking after the interest of all Eurasian-British subjects.
The EA has evolved from an advocacy group, which among other things, pressed the colonial authorities for more recognition, to a full-fledged welfare organisation during World War II.
Sometime after 1965, its objectives were revised with tweaks to promote an active interest in Singapore's affairs, and again in 1994 after being absorbed into the Government of Singapore's Self-Help Group system, which allows it to act on behalf of the Eurasian community in Singapore. It was at the same time, awarded the Institution of Public Character status.
The EA also works to retain culture and promote its heritage for community development.
The EA celebrated 100 years of service to the community in 2019. Its centennial fell in the same year as Singapore's bicentennial commemoration.
In the course of 100 years, the association has survived difficult times but has returned stronger and with a clearer vision and purpose.
Standing the Test of Time: Celebrating 100 Years of the Eurasian Association, Singapore examines the journey the organisation took to get there and the inroads it has made.
Journalists | Melody Zaccheus and Janice Tai
| | |
| --- | --- |
| ISBN | 978-981-48-2783-6 |
| Language | English |
| Binding | Hard cover |
| Trim Size | 297 mm x 210 mm |
| Extent | 172 pages |
| Published Date (Month, Year) | Aug 2022 |
| Weight | 880 grams |