---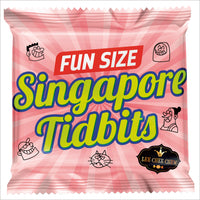 Veteran Singaporean cartoonist Lee Chee Chew is back, with
his sharp eye, sense of irony, unbeatable humour and wicked
pen. This compilation of close to 200 comic strips brings
together among the best of his cartoons published in The
Straits Times over several years.
With gentle mockery, his cartoons highlight the idiosyncrasies
and unique aspects of Singapore living as well as the
contemporary urban lifestyle that will be recognisable to
anyone, Singaporean or not — from being kiasu to beating the
heat, and from Internet access in the office to mobile phone
use on MRT trains. The book is divided into 21 topics including
education, shopping and transport.
The light humour and colourful, recognisable characters
make this an instantly perfect gift for anyone young or old —
something to put your feet up with during this holiday period,
and guaranteed to have you chuckling.
AUTHOR/ARTIST | LEE CHEE CHEW
| | |
| --- | --- |
| ISBN | 9789814827744 |
| Language | English |
| Binding | Soft cover |
| Trim Size | 165 mm x 165 mm |
| Extent | 212 pages |
| Published Date (Month, Year) | December 2019 |
| Weight | 315 grams |