---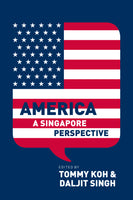 The United States of America is the largest investor in Singapore.

And in 2019, it channelled more resources into the city state than what it put into
both China and Japan.

That year, the value of US direct investments in Singapore was US$288 billion, or
about 4.8 per cent of US direct investments abroad. This sum exceeded the combined
value of those in China (US$116.2 billion) and Japan (US$131.8 billion), based on
data from the Office of the United States Trade Representative and the US Bureau
of Economic Analysis.

This illustrates the economic significance of the US to Singapore. Beyond that, the
US is also a very important partner of Singapore in security, education and culture.

And so, Singaporeans should learn more about the superpower, thought Professor
Tommy Koh, Singapore's Ambassador-at-Large who had served as its Ambassador
to the United States, and Mr Daljit Singh, Visiting Senior Fellow at the ISEAS–Yusof
Ishak Institute.

They gathered 27 other writers with a good understanding of America to pen a
collection of 29 essays, America: A Singapore Perspective.

The compendium reveals insights into the various aspects of the US: its governing,
election and political systems; business and economy; defence and foreign policy;
as well as culture and culture wars.

It includes a foreword written by Ambassador-at-Large Chan Heng Chee, who had
also been Singapore's Ambassador to the United States.

The contributors include other well-known names: Ambassador-at-Large and former
Secretary-General of the Association of Southeast Asian Nations (ASEAN) Ong Keng
Yong; former Permanent Secretary of Singapore's Ministry of Foreign Affairs Bilahari
Kausikan; former Nominated Member of Parliament and chairman of the Singapore
Institute of International Affairs Simon Tay; Dr Chua Beng Huat, Professor in the
Department of Sociology of the National University of Singapore; as well as authors
and former journalists Gretchen Liu and Koh Buck Song.

Several journalists of The Straits Times — Vikram Khanna, Chua Mui Hoong, Lydia Lim,
Jeremy Au Yong, Nirmal Ghosh, Charissa Yong and Audrey Tan — also contributed
essays to the book.
EDITOR | TOMMY KOH & DALJIT SINGH
 Finalist at the 2022 Popular Readers' Choice Award
| | |
| --- | --- |
| ISBN | 978-981-4827-34-8 |
| Language | English |
| Binding | Softcover |
| Trim Size | 152 mm x 227 mm |
| Extent | 200 pages |
| Published Date (Month, Year) | Dec 2021 |
| Weight | 270 grams |