---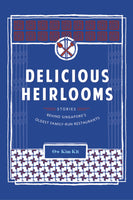 Who was "Fatty Weng"? Which family restaurant is being run by the fourth
generation? "Samy's Curry" got its name from its owner, but "Muthu's Curry"
didn't — so where did the "Muthu" come from?
Discover the answers to these questions and more in this book, which traces the
founding and growth of 10 well-known family-run restaurants in Singapore —
some dating back to the 1920s.
The book, which received a National Heritage Board grant, recounts the
sacrifices and hardship that many of the founders experienced to eke out a living.
It includes personal anecdotes from family members of the early days and
discussions with the next generation on how they plan to keep the restaurant and
the spirit of their forefathers alive.
AUTHOR | Ow Kim Kit
PHOTOGRAPHER | Ted Chen
| | |
| --- | --- |
| ISBN | 9789814827164 |
| Language | English |
| Binding | Softcover |
| Trim Size | 152 mm x 227 mm |
| Extent | 360 pages |
| Published Date (Month, Year) | February 2019 |
| Weight | grams |