---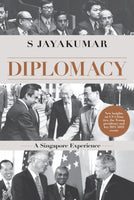 In this updated book, viewed by many as a definitive guide to Singapore-style  diplomacy, former minister, diplomat and law dean S Jayakumar outlines the
principles and norms that form the bedrock of Singapore's foreign policy, shaped
by more than five decades of hard-earned experience of ministers and officials.
Professor Jayakumar, who retired from politics as Senior Minister in 2011, illustrates these with his accounts of and reflections on milestones where he had been involved as either Singapore's Minister for Foreign Affairs or, much earlier, as Singapore's Permanent Representative to the United Nations (UN).
This second edition includes an overview and chapter updates of the tumultuous
trends and developments in the 2010s that have made a significant impact on
geopolitics and diplomacy, especially for small states such as Singapore.
The book documents how Singapore has been able to create diplomatic and
economic space for itself through proactive and creative diplomacy, for instance,
by initiating key international forums, such as the Association of Southeast Asian
Nations (ASEAN) Regional Forum and Asia-Europe Meeting, and by pursuing free trade agreements, such as the Comprehensive and Progressive Agreement for Trans-Pacific Partnership and the European Union-Singapore Free Trade Agreement, both inked in 2018. Singapore has remained relevant to the international community by hosting international summits, such as the Trump-Kim Summit in 2018 and the Xi-Ma Summit in 2015, and by leading UN efforts such as the Singapore Convention on Mediation, opened for signature in Singapore in 2019.
Professor Jayakumar recounts how Singapore has responded to moves by other
countries that are inimical to its national interests and put it under intense pressure, without losing its credibility. These include three difficult cases between 1994 and 1995 — the hanging of Dutch national Johannes Van Damme, that of Filipino maid Flor Contemplacion, and the caning of American Michael Fay — and the impounding of Singapore's Terrex infantry carrier vehicles in transit in Hong Kong in 2016.
Professor Jayakumar also discusses how Singapore has resolved disputes with other countries in an amicable manner through third-party settlement, in compliance with international law and international agreements, which has become an important feature of Singapore's foreign policy. These include the land reclamation case with Malaysia and the case where the International Court of Justice awarded sovereignty over Pedra Branca to Singapore.
COMMENDATIONS
"The honest , meaty narratives offer insights into strategic goals and
diplomatic means of one of the world's most skillful foreign ministries."
Review from Foreign Affairs
"S Jayakumar's reflections explain how Singapore manages to "punch
above its weight" on the international stage. In doing so, it offers valuable
insights for historians, political scientists and leaders from around the world.
Kofi A Annan, United Nations (UN) Secretary-General, 1997–2006