---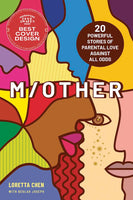 WINNER - Best Cover Design - Singapore Book Awards 2023


Creative Director Lock Hong Liang (Straits Times Press)
Popular culture and mass media have glamorised and normalised the "mother" in heteronormative households. But what about rape survivors and terminally-ill mothers? Where is the public discourse on and recognition of teen, single, incarcerated, foster, surrogate, migrant and step mothers? Do they receive the support that "regular" mothers do or are they seen as being less of a mother?
Is a mother defined only as the bearer of the child or the carer of the child? Is it the tummy mummy who matters or the daddy who also plays the role of mummy who has a baby at any cost?


The fact is, this diversity is the reality we have to grapple with.


Professor and entrepreneur Loretta Chen explores the concept of "mother" in this collection of 20 interviews with parents who have faced challenges or have themselves challenged the norms.


Among the parents featured are:
• Hillary, a thrice-divorced mother bringing up two children
• Emily, who became a mother as a result of an act of sexual violence that led to conception
• Maximillian and his partner, who engaged a surrogate mother in the US to conceive their twins


Their stories and the others in this book bear testimony to the power of love that does indeed conquer all.
AUTHOR | LORETTA CHEN
| | |
| --- | --- |
| ISBN | 978-981-5081-03-9 |
| Language | English |
| Binding | Softcover |
| Trim Size | 152 mm x 227 mm |
| Extent | 264 pages |
| Published Date (Month, Year) | Dec 2022 |
| Weight | 390 grams |