---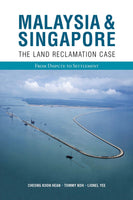 This book tells the story of Singapore's first experience of defending its legal rights
before an international tribunal, the International Tribunal for the Law of the Sea
(ITLOS). 
The authors, who were part of the multidisciplinary and multi-agency team tasked
with presenting Singapore's case at ITLOS, recount the facts of the reclamation
dispute and the ITLOS proceedings culminating in a pragmatic outcome, one that
paves the way for future cases of this nature to be resolved in a similar way. This
book would be of interest to students and readers of international relations,
international law and the peaceful settlement of disputes.
AUTHORS | Cheong Koon Hean, Tommy Koh and Lionel Yee
| | |
| --- | --- |
| ISBN | 9789814342513 |
| Language | English |
| Binding | Softcover |
| Trim Size | 229mm x152mm |
| Extent | 128 pages |
| Published Date (Month, Year) | September 2013 |
| Weight | 500 grams  |