---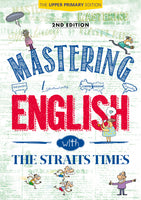 This is the second edition of Mastering English with The Straits
Times: The Upper Primary Edition. Like the first edition,
launched in 2017, it is based on the latest Primary School Leaving
Examination (PSLE) format. It is aligned with the English syllabus
issued by the Ministry of Education, Singapore.

Produced by The Straits Time Schools team, it contains guided
practice and sound tips to help pupils prepare for the various
components in the examinations. With The Straits Times articles
and photographs, pupils will be able to work on authentic texts
and find themselves better equipped to manage the PSLE English
examinations.

The first edition of the book sold more than 12,900 copies.

The book has four main components:
1. Paper 4 practice - Oral With exercises that will expose
students to various topics and build their vocabulary and
knowledge of current affairs; as well as supplementary readings
and photographs from Singapore Press Holdings' archives to give
students real-life examples to improve their content.

2. Paper 1 practice - continuous writing With ideas,
photographs, useful vocabulary, and tips to help students explore
writing techniques for composition.

3. Paper 1 practice - situational writing With exercises
that will help equip students with knowledge about authentic
application of the writing contexts, as well as a variety of
situations and formats to practise on, such as "Writing a report"
and "Writing a complaint letter".

4. Graphic idioms - A fun and easy way to learn idioms such as
"The sky's the limit" and "Water under the bridge", thanks to the
cartoons and illustrations accompanying the phrases.
DEVELOPED BY | The Straits Times Schools Team
| | |
| --- | --- |
| ISBN | 9789814827935 |
| Language | English |
| Binding | Softcover |
| Trim Size | 297 mm x 210 mm |
| Extent | 132 pages |
| Published Date (Month, Year) | November 2020 |
| Weight | 240 grams |