---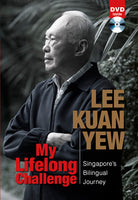 "Mr Lee's vision, leadership and persistence have made bilingualism – never an easy goal anywhere in the world – a cornerstone of Singapore's success. The ability to speak English and Mandarin gives most Singaporeans today an unparalleled competitive advantage in capitalising on the opportunities in an emerging Chinese economy."
– Tung Chee Hwa, former Chief Executive of Hongkong

"Many will say language is about communication. I feel it does more than facilitate communication. This book succinctly illustrates its other facets – that it is about livelihood; about survival and most importantly, about knowing who we are."
– Chong Lit Cheong, CEO, CapitaLand Commercial Limited

Why did Lee do away with vernacular schools despite violent political resistance?
Why did he close Nanyang University?
Why start Special Assistance Plan schools?
Why urge all ethnic Chinese Singaporeans to learn the Chinese language?

CRUCIAL LESSONS:
This book is essential reading for anyone who wants to formulate language policies. In telling Singapore's bilingualism story, it breaks new ground with never before published revelations about education matters in Singapore. It is also a comprehensive resource for all who are interested in the primeval interplay between language and politics in Singapore.

In My Lifelong Challenge, we learn of the many policy adjustments and the challenges Lee Kuan Yew encountered – from Chinese language chauvinists who wanted Chinese to be the preeminent language in Singapore, from Malay and Tamil community groups fearing that Chinese was being given too much emphasis, from parents of all races wanting an easier time for their school-going children, from his own Cabinet colleagues questioning his assumptions about language. We learn of the pain of teachers forced to switch from teaching in Chinese to teaching in English almost overnight, and of students who were caught in the transition from a Chinese medium of instruction to an English one.

My Lifelong Challenge is also the story of Lee's own struggle to learn the Chinese language. This book describes vividly his steely determination to improve his Chinese and reclaim his Chinese heritage, right up to the present when he is well into his 80s. Lee distils his experiences of 50 years into eight precepts that he spells out at the end of his narrative.
Author: 
Lee Kuan Yew

ISBN: 
978-981-4342-032

Extent: 
360pp text + 28pp col insert

Binding: 
Hardcover

Language: 
English

Size: 
227mm x 152mm

Weight: 
80.00 grams