---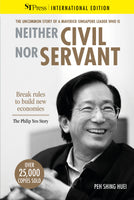 Neither Civil Nor Servant captures the half a century career of the former
Economic Development Board chairman, telling the stories of brilliant achievements
almost unparalleled in the history of the Singapore civil service. Philip Yeo was the
man who turned Batam into a household name in Singapore, created Jurong Island
from seawater and put the country on the biomedical map globally with its iconic
Biopolis. The famous rule breaker bulldozed his way through the bureaucracy he
was a part of, blazing new paths in a manner more akin to an entrepreneur than a
civil servant. In the process, he offended more than a few and was never afraid to
challenge naysayers publicly, regardless of status and background.
AUTHOR | PEH SHING HUEI
| | |
| --- | --- |
| ISBN | 9789814642637 |
| Language | English |
| Binding | Softcover |
| Trim Size | 152 mm x 227 mm |
| Extent | 276 pages |
| Published Date (Month, Year) | October 2016 |
| Weight | 460 grams |