---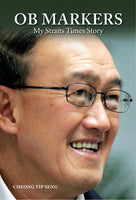 Cheong Yip Seng's memoir is much more than just a "deep-background
off-the-record" of Lee Kuan Yew's years as Singapore's no. 1 newsmaker.
It is a chronological and sensitive explanation of how the Republic's newspaper
of record was shaped by Mr Lee - and, more important, why he took it upon
himself to do so. This memoir could not come at a more appropriate time when
Singapore's third generation leaders find themselves in headwinds of public
opinion the first Prime Minister dealt with with a firm hand. 
AUTHOR | Cheong Yip Seng
| | |
| --- | --- |
| ISBN | 9789814342339 |
| Language | English |
| Binding | Hardcover |
| Trim Size | 227mmx 152mm |
| Extent | 452 pages |
| Published Date (Month, Year) | October 2015 |
| Weight | 810 grams  |