---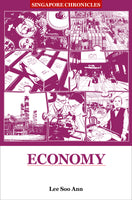 This book gives a concise account of the Singapore economy, beginning
with its origins in the colonial era and continuing with its evolution after
World War II. It notes the social and institutional changes, as well as economic
development, in the years leading up to Independence in 1965. The book
charts how, faced with the closure of British military bases, independent
Singapore embarked on its transformation to a global economy. It examines
closely the roles played by an interventionist state, foreign investment, labour
market stability and other factors in effecting the transformation. The book
analyses how the economy was restructured after the recession of the
mid-1980s; and how it responded to domestic and foreign challenges such as
an ageing population and the economic rise of China. It concludes with a
glimpse of the way ahead.
AUTHOR | Professor Lee Soo Ann
| | |
| --- | --- |
| ISBN | 9789814747226 |
| Language | English |
| Binding | Softcover |
| Trim Size | 129 mm x 196 mm |
| Extent | 92 pages |
| Published Date (Month, Year) | January 2019 |
| Weight | 130 grams  |