---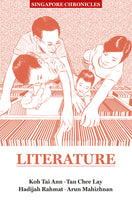 Singapore has not one national literature but four literatures, in the official
languages of Malay, Chinese, Tamil and English. Each thus differs in origin,
literary tradition and development, and they reach disparate reading publics
both nationally and internationally. This book attempts to bridge these
differences by introducing to the reading public in English within one volume
for the first time, the literary history, development and significant writers
of each literature. By situating these in their shared common historical
context, the book reveals how the literatures are each unique yet ultimately,
Singaporean. Lists of translations and digital resources enable readers,
moreover, to explore the literatures on their own.
AUTHORS | Dr Koh Tai Ann, Dr Tan Chee Lay, Dr Hadijah Rahmat 
                    and Mr Arun Mahizhnan
| | |
| --- | --- |
| ISBN | 9789814747370 |
| Language | English |
| Binding | Softcover |
| Trim Size | 129 mm x 196 mm |
| Extent | 120 pages |
| Published Date (Month, Year) | November 2018 |
| Weight | 166 grams  |