---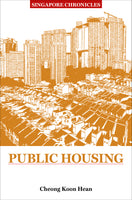 The story of public housing in Singapore is a unique one. This book chronicles the
journey from the early days of prevalent unhygienic slums and crowded squatter
settlements to the current landscape where over 80 per cent of the resident
population is housed in quality ats spread across the island. Of these, about nine in
10 households own the ats they live in. Central to this story is the Housing and
Development Board (HDB), which was established on 1 February 1960 and has
since built more than one million ats in the last 58 years. HDB remains committed
to its mission of providing affordable homes, creating vibrant and sustainable
towns, and promoting the building of active and cohesive communities.
AUTHOR | Dr Cheong Koon Hean
| | |
| --- | --- |
| ISBN | 9789814747479 |
| Language | English |
| Binding | Softcover |
| Trim Size | 129 mm x 196 mm |
| Extent | 108 pages |
| Published Date (Month, Year) | January 2019 |
| Weight | 150 grams |