---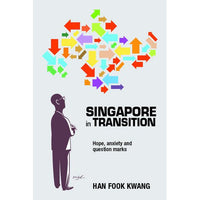 Hope, Anxiety and Question Marks

Are Singaporeans a weak people? Do Singaporeans really deserve their wages? Who is more out of touch – the people or their leaders? Why did founding Prime Minister Lee Kuan Yew change his mind about writing his memoirs?

This compilation of 40 commentaries from the Sunday Times by Han Fook Kwang, former editor of The Straits Times, provides provocative answers to these questions and more. They include his take on the watershed 2011 General Election and the equally surprising 2015 GE, new economic challenges and what ails the public transport system. Also featured is a selection of his writings on Lee Kuan Yew, founding Prime Minister of Singapore.

Author: HAN Fook Kwang 
Han Fook Kwang graduated from the University of Leeds, England, in 1975 on a Colombo Plan scholarship, and obtained his Masters in Public Administration from Harvard University in 1983 on a Singapore Government scholarship. He spent eight years in the Singapore Government's Administrative Service and undertook the roles of political editor, editor, managing editor and editor-at-large with the Straits Times. He co-authored three books on Singapore's founding prime minister – Lee Kuan Yew: The Man and His Ideas, Hard Truths To Keep Singapore Going, and One Man's View of the World. 
ISBN
9789814642569
Language
English
Binding
Softcover
Trim Size
227 mm x 152 mm
Extent
200 pages
Published Date (Month, Year)
June 2016
Weight
300 g