---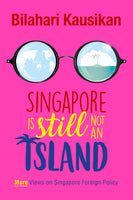 Retired Singapore diplomat Bilahari Kausikan gives his
perspectives on regional and global developments that pertain
to Singapore's foreign policy.

A first collection of essays and public speeches, covering the
period from Singapore's independence in 1965 to 2017, was
published under the title Singapore Is Not An Island.
This second collection of articles and speeches builds on this
and covers events up to 2023.

Sharing his strategic insights through various essays, talks
and papers, Bilahari shows why and how Singapore and Asean
should navigate the new strategic environment. Global and
regional issues are examined through the realistic lens of
Singapore's foreign policy interests.
COMMENDATIONS
"Bilahari is one of the finest minds we have had in Singapore's public
service. His unvarnished, if not provocative, analysis of foreign policy
trends is refreshing especially for what they portend for Singapore."
Prof S. Jayakumar, Former Senior Minister (2009-2011),
Deputy Prime Minister (2004-2009) and Minister for
Foreign Affairs (1994-2004), Singapore

AUTHOR:   BILAHARI Kausikan
Bilahari Kausikan is currently Chairman of the Middle East Institute,
an autonomous institute of the National University of Singapore. He
has spent his entire career in the Ministry of Foreign Affairs. During
his 37 years in the Ministry, he served in a variety of appointments at
home and abroad, including as Ambassador to the Russian Federation,
Permanent Representative to the UN in New York and as the Permanent
Secretary to the Ministry. Raffles Institution, the University of Singapore
and Columbia University in New York all attempted to educate him.

EDITOR: TAN Lian Choo
A former award-winning journalist with The Straits Times, Tan Lian Choo
joined the Singapore Ministry of Foreign Affairs in 1995, serving as the
Ministry's first Director of Public Affairs, Spokesperson for the Ministry
and Press Secretary to the Foreign Minister. Her overseas diplomatic
assignments included being Singapore's Permanent Delegate to
Unesco in Paris (2007-2009), serving concurrently as Deputy Chief of
Mission, Singapore Embassy in Paris (2006-2009). She was appointed
Head of Mission, Singapore Embassy in Brasilia, Brazil (2012-2015). She
retired from the Singapore Foreign Service in 2015.

ISBN
9789815081107

Language
English
Binding
Paperback
Trim Size
152mm X 227mm
Extent
384 pages
Published Date (Month, Year)
July 2023