---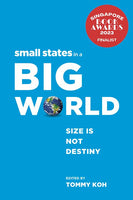 At the Tokyo 2020 Olympic Games in Japan, more than a quarter of the 93 winning
states were small ones.
The 25 countries and territories bagged 113 medals — about a third of the total tally
of 340 medals awarded at the games, which had been delayed by the COVID-19
pandemic until 2021.
The disproportionately large haul of medals signifies that small states punch above
their weight.
This is just one of the achievements by small 
states highlighted in Small States in

 
a Big World: Size Is Not Destiny.
The collection of 40 essays shows that despite their sizes, small states can play
to their strengths and be successful in many aspects, including contributions to
the world order and global security, economics, innovation, aviation, as well as
sustainable and human development.
The essays are penned by 46 writers from 29 countries, all of which are members
of the Forum of Small States (FOSS), each with a population of below 10 million.
Its membership has grown from only 16 in 1992, when it was established by
Singapore, to 108 in 2022, which marks its 30th anniversary. Its members make
up more than half the United Nations membership, gaining strength in numbers.
The book includes two forewords — one written by Madam Halimah Yacob, President
of the Republic of Singapore, and the other written by Ms Mary Robinson, former
President of Ireland.
The contributors from Singapore include: Dr Tommy Koh, Ambassador-at-Large at
Singapore's Ministry of Foreign Affairs and the book's editor; Singapore's Chief Justice
Sundaresh Menon; Mr Daren Tang, Director-General of the World Intellectual Property
Organization (WIPO); Mr Han Kok Juan, Director-General of the Civil Aviation Authority
of Singapore (CAAS); Mr David Koh, Commissioner of Cybersecurity and Chief
Executive of the Cyber Security Agency (CSA) of Singapore; Ms Quah Ley Hoon, Chief
Executive of the Maritime and Port Authority (MPA) of Singapore; Ambassador Tan
Hung Seng, Singapore's Permanent Representative to the World Trade Organisation
and WIPO; and Ambassador Burhan Gafoor, Singapore's Permanent Representative
to the United Nations in New York, the United States.
Other contributors include: Judge Abdul G. Koroma, a former Judge of the
International Court of Justice (ICJ) (1994–2012) from Sierra Leone; Judge Kathy-Ann
Brown, a member of the International Tribunal for the Law of the Sea, from Jamaica;
Mr Rodolfo Solano Quiros, the former Minister of Foreign Affairs and Worship of the
Republic of Costa Rica; Ms Elizabeth Thompson, Barbados's Ambassador Extraordinary
and Plenipotentiary with Responsibility for Climate Change, Small Island, and former
Cabinet minister; and Mr Elijus Civilis, General Manager of Lithuania's official agency
for foreign direct investment, Invest Lithuania.
Editor | Tommy Koh
Best Non-fiction Title Finalist for the 2023 Singapore Book Awards
| | |
| --- | --- |
| ISBN | 978-981-5081-01-5 |
| Language | English |
| Binding | Softcover |
| Trim Size | 152 mm x 227 mm |
| Extent | 260 pages |
| Published Date (Month, Year) | Sep 2022 |
| Weight | 355 grams |