---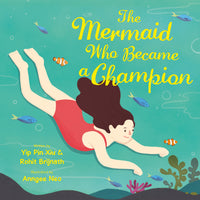 In 2008, a 16-year-old swimmer made history by winning Singapore's first Paralympic gold.

Her name: Yip Pin Xiu.

How did she do it? Pin Xiu has Charcot Marie Tooth, a disorder that leads to a progressive weakening of the muscles. By four years old, she needed an ankle-foot brace to assist her with walking. By 13 years old, she could no longer walk and started using a wheelchair.

Today, she has three Paralympic gold medals and a silver to her name.

As she says in this children's illustrated book, co-written with The Straits Times assistant sports editor Rohit Brijnath: "My story is of struggle and grit and never being afraid."

In this beautifully-illustrated book, Pin Xiu shares the story of her remarkable journey, from being bullied in school to becoming a champion at the Paralympic Games, and of how she overcame obstacles and met life's challenges.

It is a story of resilience and determination.

This book will appeal to everyone, not just children, and readers of all ages will surely cheer along with Pin Xiu when she says: "People now look at us and don't merely see the disabled, but talent and ambition and someone who is able."


AUTHORS:   YIP Pin Xiu and Rohit BRIJNATH 
Singaporean swimmer Yip Pin Xiu is a four-time Paralympic medallist. She will be an "athlete mentor" for the Asean Para Games in Kuala Lumpur in September and has been appointed as chef de mission for this December's Asian Youth Para Games in Dubai.
Rohit Brijnath is assistant sports editor with The Straits Times and has 31 years of sportswriting experience. He has covered the Olympics, Asian Games, cricket World Cups and tennis Grand Slams. He has written for newspapers in India and Australia and for the BBC South-Asia website, and has co-authored a book with Olympic gold medallist Abhinav Bindra.

ILLUSTRATOR:   NEO Anngee
Anngee Neo's works include illustrations for The Crane and the Crab, written by former President SR Nathan, and The Rock and the Bird, which won the Hedwig Anuar Children's Book Award in 2015. She has a Bachelor of Fine Arts (Drawing) degree from the Victorian College of the Arts, Melbourne.

ISBN
9789814747530
Language
English
Binding
Softcover
Trim Size
250 mm x 250 mm
Extent
36 pages
Published Date (Month, Year)
August 2017
Weight
200 g
Video