---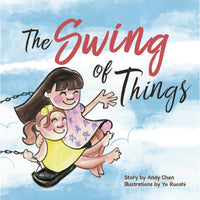 "There once was a time when the family swing was not this unmoving, unused, unloved thing…" 

And so begins this sweet story about a swing, loved and played by two sisters everyday – until they grew up and became too old for swings. But the swing learns that sad times don't last forever, and goodbyes can make way for new times of laughter. 

This book introduces the idea of change and growing up. With fun activity pages at the end, this book will sure bring valuable lessons and nostalgic warmth.

AUTHOR:   Andy CHEN
ILLUSTRATOR: Ye Ruoshi

About the author: 
Andy Chen, a Singaporean, is an entertainment journalist and editor of 20 years and a father of two. He was inspired to write the book about his own two daughters, Faith and Sarah, after seeing a neighbour's unused and sad-looking swing. The Swing of Things is his first children's picture book. 

About the illustrator: 
Ye Ruoshi is a Singaporean painter and a graduate of the Nanyang Academy of Fine Arts. She has three sons and is also an amateur Chinese opera performer. Her interest in Chinese opera has spilled over into her artworks, in a series of drawings featuring an opera performer.
ISBN
9789814642934
Language
English
Binding
Softcover
Trim Size
251 mm x 251 mm
Extent
36 pages
Published Date (Month, Year)
April 2017
Weight
180 g