---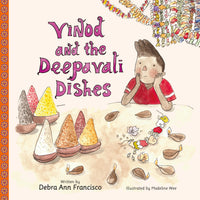 At the start of the book, Vinod is at the market with his Aunt Meera,
who is buying vegetables and other items for Deepavali. Along the way,
he enjoys the sights and sounds of Little India. Back home, he is surprised
to see his grandfather, whom he calls Tatta, cooking delicious-smelling and
perfect-looking murukku and learns that his grandfather used to be a chef.

Vinod then helps his aunt and his grandfather cook many dishes. He
decides to design a large menu to list all the dishes there will be. Aunty
Meera suggests he adds candles and lamps to his poster since it is for
Deepavali – the festival of lights.

About the series
This is one of five titles in an illustrated heritage cookbook series that
aims to inspire children to discover more about the traditional dishes of
the various ethnic groups in Singapore, through imaginative storylines
involving kids learning about food and cooking for themselves.
AUTHOR | Debra Ann Francisco
ILLUSTRATOR | Madeline Wee
| | |
| --- | --- |
| ISBN | 9789814747981 |
| Language | English |
| Binding | Softcover |
| Trim Size | 250mm x 250mm |
| Extent | 40 pages |
| Published Date (Month, Year) | August 2018 |
| Weight | 200 grams  |