---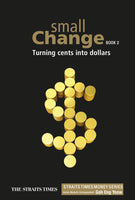 Turning Cents to Dollars

Goh Eng Yeow, author of the bestselling 'Small Change: Investment Made Simple', has written a second book to demystify investing and make it interesting to the layperson. In this book, he teaches us how to make informed decisions on what we should or should not invest in. A guide that will make navigating and knowing where to find the right investment information easier and simpler. Eng Yeow has an unusual knack for offering simple solutions that get to the core of a difficult financial issue while cutting out distractions which could cloud judgment, perfect for any person entering into financial management for the first time.

AUTHOR:   GOH Eng Yeow
Goh Eng Yeow, The Straits Times' senior markets correspondent, has kept an eagle eye on the financial markets as a markets writer for much of his working career spanning almost three decades. In 2014, he compiled some of his columns into the book Small Change: Investment Made Simple which made it to The Sunday Times Life's nonfiction bestsellers list for 18 weeks. He was named the Best Financial Journalist of the Year in 2006 by the Securities Investors Association of Singapore (Sias), receiving the Sias Outstanding Award in 2013, and again in 2014. He has also spent some years as a stock market dealer with Morgan Grenfell Asia Securities, been an executive director in a public-listed company, and has helmed the "Market Talk" column for US wires agency Dow Jones Newswires.
ISBN
9789814342872
Language
English
Binding
Softcover
Trim Size
227 mm x 152 mm
Extent
138 pages
Published Date (Month, Year)
2015
Weight
210 g